We use no herbicides, pesticides or poisons of any type in producing our vegetables.  We enrich and fertilize our soil using cover crops and compost produced on the farm.  We weed and fight pests by hand and by traditional sustainable methods such as trap cropping and crop rotation.  Farming this way requires more labor than conventional industrial agriculture but our produce is healthier and better tasting, and our methods help preserve the land and environment for future generations.
We rotate our gardens and use cover crops.  By rotating our crops this way we are better able to preserve and maintain soil quality, produce the most nutritious, best-tasting food, and avoid the use of any chemicals.
How we do it:
How they do it:
Our chickens free-range around the farm, eating a natural healthy diet.  Our eggs have the firm, orange yolks that distinguish natural eggs from those produced by commercial egg factories.
The eggs sold in supermarkets are produced in factory-settings by industrial agri-businesses.  They typically use only white leghorn hens, who are confined in areas too small to permit them to even turn around.  The beaks of the hens are often removed to prevent them from pecking the hens trapped in the cages next to theirs.  They are kept in artificial light 24 hours a day to maximize egg production, and fed the cheapest available food.  The yolks are pale yellow and runny.  Once you've tasted a real naturally produced egg you probably won't want to ever eat the factory eggs again.
How we do it:
How they do it: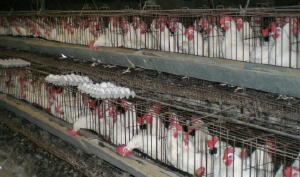 Our pasture-raised pigs live healthy, happy lives.  Unlike the pigs raised in factories by agri-businesses, our pigs live outdoors, as nature intended.  They play, wallow in the mud, eat grass, nuts and left-overs from the gardens, and enjoy their lives.  They are never given growth hormones, antibiotics or any other chemicals.  Our pork is healthier and tastier than factory pork.
How we do it:
How they do it:
The honey typically sold in grocery stores comes from bees (often in other countries) fed a diet of sugar-water or high fructose corn syrup.  By comparison, the bees on our farm gather nectar from our fruit trees, our blooming garden plants, our blackberry vines and our abundant wildflowers.  They not only help us with pollination, but they produce delicious all-natural honey.